Get Organized and Impress Your Auditors & Regulators
Vendor management software for banks, credit unions, mortgage companies & more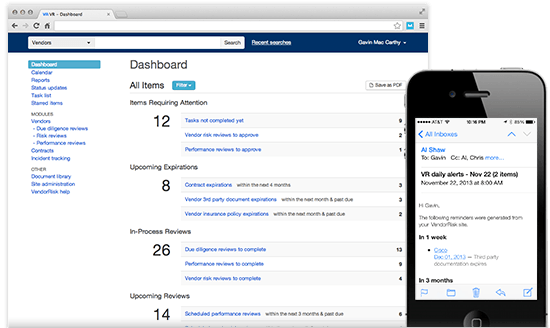 Learn More About VendorRisk
"As we have grown we have transitioned from Excel to internal systems to VendorRisk and I appreciate the visibility and control that I now have. It's much easier to share access to key documents in a controlled manner and track updates. The advance notification of contract expiration dates allows us to be more proactive in our relationship with our vendors."
With VendorRisk, You'll Be Able To...
Centralize Your Vendor Management Program
All your vendors, contracts & reviews in one place
Unlimited document storage — replace your messy shared drive
Give access to all employees — get everyone on the same page
Satisfy Your Auditors & Regulators
Show your auditors a formal, comprehensive system
Assign detailed rights & roles for each user
Run ad-hoc reports and save to Excel & PDF
Proactively Deal With Upcoming Deadlines
Receive automated email reminders leading up to contract expirations
Set expiration dates for insurance policies & other vendor documents
See all your upcoming items with the Dashboard & Calendar pages
Save Time & Effort
Have vendors upload documents directly to your system
Import vendors & contracts from Excel
Perform bulk actions to automate routine tasks
Worried About The New CFPB Rules?
VendorRisk is Ideal For Mortgage Companies
VendorRisk is already being used by mortgage servicers to manage their wide array of vendors. And with our a la carte approach, you can select just the modules you need for CFPB compliance.
Attend Our Upcoming Webinar
We'll be teaming up with one of our service partners, Vital Solutions, to explain the key vendor management requirements in the new CFPB manual, as well as provide tips, guidance and best practices.