All Your Vendor Information in One Place
Catch up to speed on any vendor in a matter of minutes
Experience The Benefits Of A Consolidated Vendor Database
Give everyone in your company access to a current, official vendor list
All relevant company personnel should have access to see your vendor information. No more having to email a person asking for info, or having to wade through an Excel worksheet only to find out their info has been updated in another location.
View a comprehensive one-page vendor report
Each vendor has their own page that details:
Basic info — name, status, phone, fax, addresses, assigned owner
Third party documentation — expiration date, related info & links to documents
Insurance policies — expiration date, related info & links to documents
Contacts — name, title, phone, email & notes
Due diligence reviews — review frequency, next review date, links to past reviews
Risk assessments — review frequency, next review date, links to past reviews
Performance reviews — review frequency, next review date, links to past reviews
Incidents — list of previous incidents for this vendor
Competitors — name & notes of possible replacements for this vendor
Documents — general documents uploaded for this vendor, such as privacy policy
Comments — users can post quick notes on the vendor
With this one page, any user can quickly grasp who the vendor is, what they do, who's responsible for them, and how well they've been managed and monitored.

Use as your vendor contacts rolodex
You can enter multiple contacts per vendor — such as Account Manager, Tech Support, Project Manager. Quickly find a contact's info by searching for their name in the global search box. Or create a custom report that lists your vendors and their contacts.
Keep your important vendor documents up-to-date
When you enter a new vendor relationship, you typically collect documents from the vendor, notably proof of insurance & any third party documentation such as an SSAE 16 or SAS 70.
With VendorRisk, you can upload these documents and specify expiration dates, and you'll receive email reminders leading up to the expiration date, so that you can contact the vendors and request the latest versions.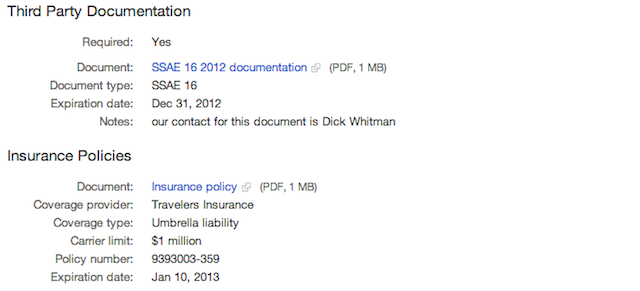 Receive automated email reminders for...
Upcoming due diligence reviews
Upcoming on site reviews
Upcoming risk reviews
Upcoming performance reviews
Upcoming third party document expirations
Upcoming insurance policy expirations
Generate Vendor Reports On The Fly
Examples of reports you can run, save & export...
Active vendors with a high-risk level
High-risk vendors with an insurance policy expiring in the next 3 months
New vendors added to the system in the past month
Vendors in a specific category that have a risk review occurring in the next month
High-risk vendors owned by a specific user that haven't had a review performed in the past 6 months

Module Summary
Import your vendors from Excel (CSV)
Export your vendors to Excel
Save vendor details page to PDF
Create up to 25 custom vendor fields
Upload unlimited vendor documents
Receive email alerts for upcoming review dates & upcoming insurance and third-party documentation expirations
Create unlimited vendor reports


Schedule a Quick Phone Call
Let's talk and see how VendorRisk can help your company.
Download the Vendors module PDF