Automated Reminders
Don't worry about missing a contract reminder or document expiration. VendorRisk will take the guesswork out of ensuring that you aren't missing critical milestones or overlooking key vendor documents. Set recurring reminders to receive notifications about expiring documents, upcoming reviews and tasks related to your vendor oversight.
Reporting
Design and build custom reports with our reporting tool. Select from detailed, drill down, summary and executive reports to capture the information you need.
Detailed reports allow you to search for data across every module including audit specific information.
Drill down reports allow you to look inside your review questionnaires to isolate a specific question and answer. For example, if you wanted to know which vendors have access to non-public consumer information, a drill down report will give you the ability to capture that information.
Summary reports allow you to visualize your data with bar, pie and line graphs. Build a chart to capture the risk level of your vendors or how many reviews are scheduled for the next quarter.
Executive charts allow you to group two or more reports into one single report. This is an easy way to share a summary report and a detailed report in a single container report.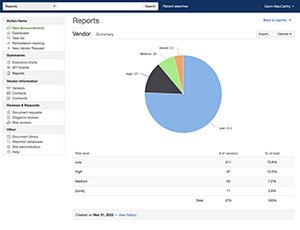 Dashboard
The Dashboard is the first place you land when you login. It lists Items Requiring Attention, Upcoming Items, In-process Items and Expiring Items. It also can list any bookmarked report that's been added. Personalize your view to filter for the items that you or your department own.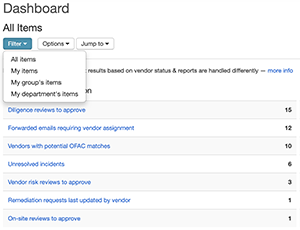 Document Management
Managing and tracking vendor documentation couldn't be easier. Upload unlimited documents to your vendor profiles. Ensure that your vendors have the most recent version of their insurance policies, SOC Reports, financials, business licenses and other policies and procedures.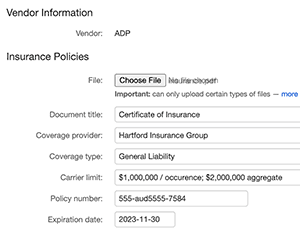 User Management
Easily manage your user's access to VendorRisk. Built with highly configurable controls, your administrators will be able to limit a user's access within VendorRisk. Remove access to entire modules or restrict access within a specific module. Group permissions can be configured and assigned in bulk to your users. VendorRisk also supports SAML 2.0 providers like Okta, OneLogin, PingOne, Azure and ADFS for single sign on capability. We also provide support for multi-factor authentication via Google Authenticator.
OFAC Checks
We make it easy to verify that your vendors aren't on a sanctions list. VendorRisk allows for real-time checks against the U.S. Government's "Consolidated Screening List" which includes the following 11 data sources:
Department of Commerce – Bureau of Industry and Security
Denied Persons List
Entity List
Unverified List
Department of State – Bureau of International Security and Non-Proliferation
Nonproliferation Sanctions
Department of State – Directorate of Defense Trade Controls
Department of Treasury - Office of Foreign Assets Control
Foreign Sanctions Evaders
Non-SDN Iranian Sanctions Act List
Palestinian Legislative Council List
Part 561 List
Sectoral Sanctions Identifications List
Specially Designated Nationals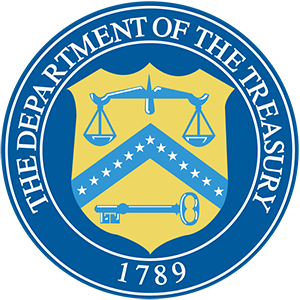 SAM Checks
VendorRisk is also integrated with the System for Award Management (SAM), an official website of the U.S. government (https://sam.gov/). The integration specifically allows vendors added to VendorRisk to be screened against the list of excluded parties identified in SAM.

Remediation Tracking
Move over spreadsheets. Enhance your diligence review process with the remediation tracking feature built directly into VendorRisk. Document findings that may arise with your vendors to ensure that you have performed a complete and thorough review. Monitor and track open findings with your vendors. Allow them to respond and provide additional information or documentation via a secure portal. Remediation tracking equips you with the tools and process to ease through your next audit.